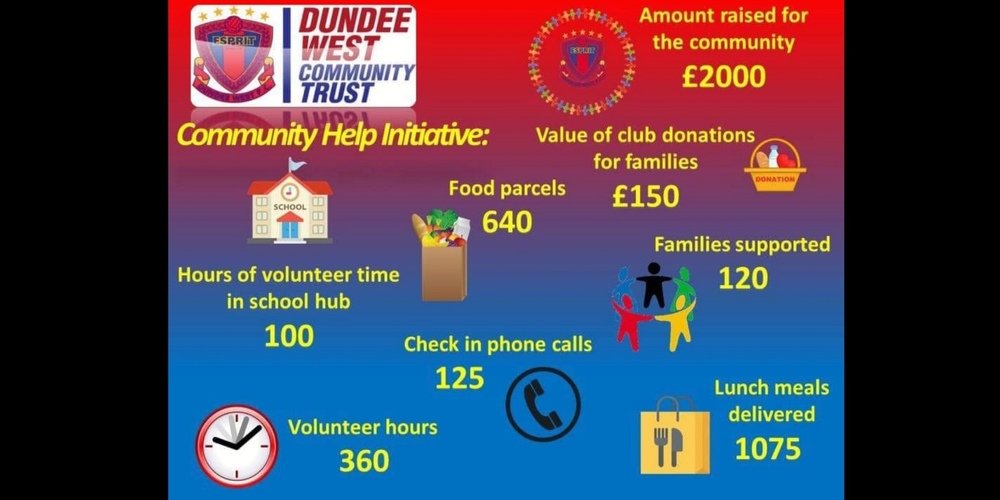 ⚽ IMPORTANT 2 MIN READ ⚽
Happy Saturday everyone.
We hope you're all well and looking forward to getting back to football in the coming weeks.
We are working with our governing bodies as to how that will look and plans are in place to make sure we are keeping within guidelines and get everyone back safely.
We will keep teams updated with the latest info to be relayed to parent's and will look to get back as soon as we get the go-ahead.
We also wanted to get news to everyone about work which has been going on in the background and what this means to the club.
I'm sure you've all seen the great work going on since we went into Lockdown within our Local Community.
We've been:
1. Supporting local Food Larders daily
2. Raising funds for Local Food Larders
3. Delivering Lunches
4. Keeping key worker kids busy at the School Hubs with Maths and fitness sessions.
This is just a summary and pls see the stats and data on attached image in newsletter.
You've prob seen some of this in passing and no doubt think it's great, but also thinking it doesn't really effect my team, but well done anyway and then not given it much thought after that.
But the bigger picture is this can have a huge benefit for your team.
This Community Work is exactly the evidence we get asked for when considering Funding Bids for 3G Astro Pitches at Charlotte St/renovating the Hub pavilion etc.
A common question from Funders is... How are you using Football to make a Social Impact in your community?
The work the guys have been doing goes a long way to answering that. And plenty of evidence to back it up.
Please have a look through recent posts on West FB & Twitter page and you'll start to see how the Club are identifying Key Social Issues in our Local Community and working with local support groups to help.
This work is starting to get noticed.
1. An article about the work going on will be in tomorrows Sunday Mail.
2. Article in the Local Press this week.
3. Key people at SportScotland and SFA have been commenting/liking posts mainly through Twitter which Tam has been posting regularly.
Tam is also working on a Club video for the work which has been going on over the last few months.
But we do need your help.
We've all got an opportunity here to really spread the word of the amazing effort and man hours which has went into this.
The posts that are going onto our Club Facebook & Twitter Pages about this work are only really getting a handful of likes and shares which isn't really doing it justice.
We've got roughly 120 volunteers in the club and approx 500 club members like yourself that we can communicate with.
We've also got 2500 followers on FB.
Imagine the impact of this if we can get everyone in the Club sharing these posts and supporting this work going on.
We can hit a far bigger audience than we currently are.
Please, when u get a minute have a scroll through our clubs FB/Twitter page and get hitting the recent community posts from the past few days.
Also keep an eye out for the upcoming news in the Sunday Mail, Local Press & Club video which will be going out this week.
Again please continue to share our Club Stories through all our Social Media forums. (Mainly Club FB, Twitter and DW YouTube Channel)
We do have a brilliant opportunity to get the West to the front of the Queue for Funding. (which is no doubt going to get harder going forward)
Thank you in advance and thank you for supporting your club through the Lockdown.
We've come a long way, please continue to be safe, stick to government guidance and we should all be back to football soon.
Yours in sport
Dundee West Exec Committee
⚽❤️⚽
Back to news