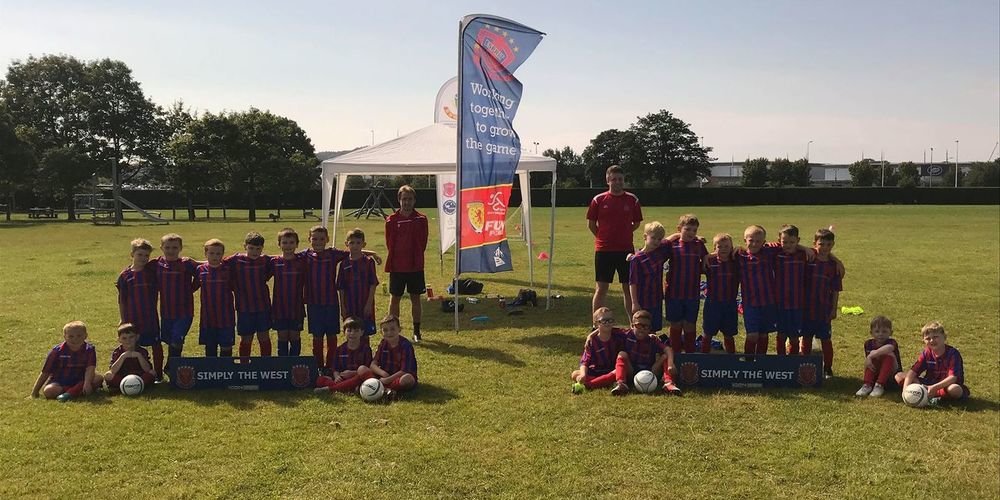 As restrictions with football have eased over the last 3 to 4 weeks, Dundee West FC have taken up every opportunity to kick start their sizzling Summer football programme with some small team football camps at Charlotte Street.
Over the past fortnight, we have welcomed back our 2014's, 2013's, 2012's and our 2011's for some action-packed football fun as part of our return to our club's community football programmes. However, our work is only beginning and we are delighted to remind you what's all on next week with Dundee West.
Our camps have been split into morning and afternoon sessions to stick by current Scottish FA COVID-19 guidelines. All players on arrival and departure are asked to wash hands and remain 2 metres apart from coaches throughout each session. So far all players and coaches have done a fantastic job at this so we are now in a position to expand on the number of football camps running for the final week of Summer.
Our three morning sessions run from 10am-12noon and are open to all 2013's, 2010's & U9, U11 & U13 girls. Players are asked to arrive no earlier than 9.50am and will finish for 12noon.
Our three afternoon sessions run from 1pm-3pm and are open to all 2014's, 2009s and any goal keepers that may have an interest in developing new skills ahead of the return to football.
Please find attached flyer for further details about our camps running next week - Summer Football Programme - Week 3
To register your child's space for any of the following camps please log in on your MCH app or via our website at www.Myclub-hub.co.uk. Once you log into your account please click "Programmes" followed by "Events" and select which sessions before making payment.
For any further queries please contact Tam McCabe, Club Development Officer on 07803 337593 or on club_dev.dundeewest@outlook.com.
Thank you as ever for your continued support and patience with the return of our community football programmes.
Dundee West Community Trust
Back to news