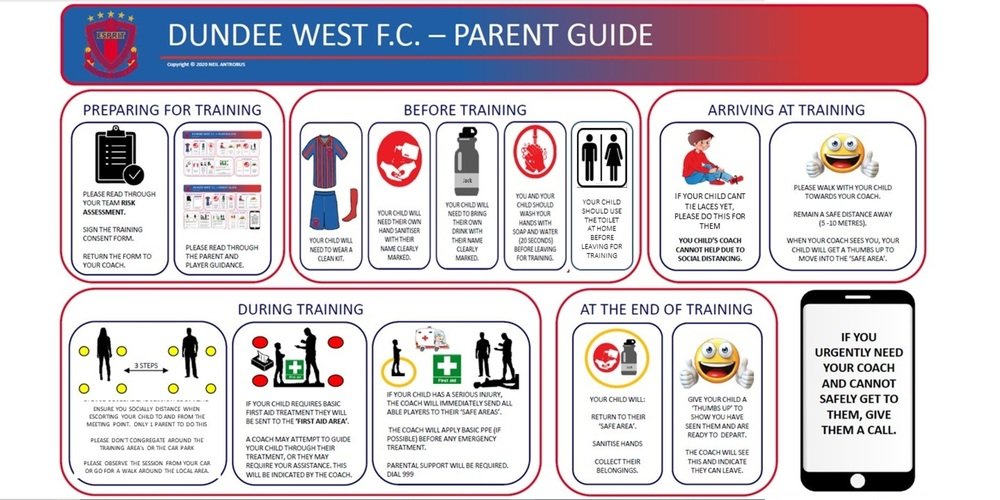 Dear parent/carer
We need to remind everyone that the current rules are NO spectators are allowed at Football Training or Games.
It's a drop off and pick up only. You can stay in your car if you wish to spectate, but cannot stand pitch side.
We cannot have adults gathering at Charlotte Street and standing around the pitches.
(The only exception to this is if your child needs assistance during the football sessions. If your child is in this position you must request attendance and agree with your coach to be pitch side. Your coach will then need to keep a record of you attending the session for Test & Protect purposes).
These aren't rules being implemented by Dundee West, these are our governing bodies rules which are fed down to Clubs.
We understand these are difficult times for everyone but please appreciate we are trying to do everything by the book as a responsible club. Please bear with us and abide by this.
As volunteers our coaches don't have time to be policing the sidelines, so please dont add to their workload. Also please appreciate that if you do attend there will be extra work for the coach in keeping Test & Protect Records.
We have been advised that the Football Authorities will be carrying out spot checks.
Please don't let Dundee West be a Club which jeopordises Youth Football.
The authorities have made it clear that if clubs, coaches or spectators are flouting the rules and putting people safety at risk, Grass Roots football could be stopped again.
As a parent you are a Dundee West Member, you are representing the Club, don't let the Club or Grass Roots Football down.
Please stick to the rules, don't get complacent and please think about everyone's safety.
Lastly, the Club's parent guide (CLICK HERE FOR GUIDE'S) is still valid. As a Club Member we ask that you abide by this until we are told otherwise.
We thank you for your continued co-operation.
Yours in Sport
Dundee West Exec Committee
Back to news